Kenelm Winslow was a joiner who came to this country in 1631. He was one of five sons of Edward Winslow, Sr. and Magdelyn Ollyver of Droitwich, England. Edward Jr. and Gilbert were passengers on the Mayflower and they were followed by Kenelm, Josiah and John. Carpenters and joiners were in great demand since most immigrants could not bring furniture with them from England and those that could bring a piece or two still needed more once they arrived. From chests to chairs to coffins, every family would need something.
An article in Antiques and Fine Arts Magazine provides the following information about Kenelm:
Evidence of Kenelm's London training is present in the Master's and Wardens' account books kept by the company from 1621 to 1828. In the relevant account citation the text reads: "Item [received] of Kenelme Winslowe late the apprentice of Abraham Worthington a silver spoone and for his admission iij s iiij d" [3 shillings, 4 pence]. It was standard practice for an apprentice finishing his time to make a payment to the Company, along with a gift of a spoon
.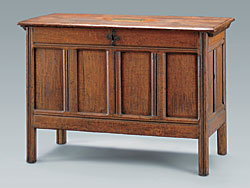 See article link below for photo credits
There is circumstantial evidence that a few pieces that may be his work survive today as museum pieces. If not his, at least, similar to work he would have done. The article linked below has pictures and a more detailed explanation of the work of Kenelm Winslow.
Droitwich, Worcestershire, England
Kenelm Winslow & Eleanor
Ellen Winslow & Samuel Baker - Nathaniel Winslow & Faith Miller - double line of descent
Lydia Baker & Josiah Keen - Nathaniel Winslow & Lydia Snow - double line of descent
Nathaniel Keen & Thankful Winslow
Snow Keen & Rebecca Burbank
Hannah Keen & John Cox
Timothy Cox & Eunice Rand
Christiana Cox & John H. Cotton
Francis Llewellyn Cotton & Lizzie Philbrick
Ray Everett Cotton & Annie Florilla Gibbs
Fern Lyndell Cotton
http://www.antiquesandfineart.com/articles/article.cfm?request=835